Window Tinting Can Be Used As a Deterrent to Thieves

Everyone wants to keep their home safe. Most people think of expensive home security systems to achieve this goal, but few people think about the security of windows. The fact is that one of the most common points of entry for a burglar is through a window.
Reducing the ease of breaking a window and entering your home should be a top priority for your security efforts. Adding security home window tinting helps deter thieves from gaining access to your home. You can also use other means such as a locksmith or monitored home security system.
Thicker Than Normal Tint Film
Home security tinting is up to 10 times thicker than standard home thing film. This reinforces the strength of the windows, making it more difficult to break the glass.
Slows Entry
If someone is intent on breaking the glass in your doors or windows, no current residential grade glass or finish will be able to stop them. However, with home security window tints, the glass will not shatter, and is kept safely in place by the film. This slows the access to your home, oftentimes deterring anyone from following through on a break-in attempt.
Choose Your Color
Not everyone who wants this added security wants to filter the light coming in through your windows. There are many options to choose from to meet your security as well as aesthetic need. This includes solar tints that will help improve your heat and cooling efficiency, to completely clear films that are not detectable to the naked eye.

Contact Us Now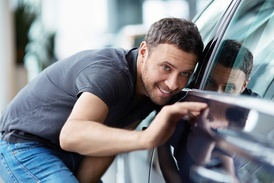 Are you ready to take the security of your home seriously? If so, you owe it to yourself and your family to add these strong safety tints to your windows and doors. Contact us today for a free estimate and begin sleeping better at night.